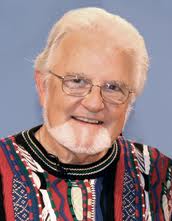 by David Van Koevering
In this chapter, David Van Koevering explains that, because of the laws of quantum physics, our spoken intent can bring
something from the unseen realm into the seen and we can make the non-material appear in material form. In other words, we can "pop qwiffs." There is a non-physical reality from which this universe and everything in it flows. Jesus
Himself is causing your body, your spirit, and everything you have to blink into your reality. All the things of life and their purpose for you and your assignment are frequencies being spoken by Christ Himself at this very nanosecond.
Years ago, as a young scientist and inventor, I worked with Dr. Bob Moog and together we gave the music world the first performance keyboards called Moog synthesizers. I learned to work with electrons and photons – tiny elements that are so small they can't be seen! Yet these invisible elements cause all electronic devices to work. This project caused me to ask the question, "Is there more to our universe than what I can perceive through my senses?"
My search to learn more about physical reality and how it works led me to discover that quantum physics identifies a large part of our universe to be non-physical. I began to realize that the universe is greater than science has discovered, or can explain. Through quantum physics and spiritual revelation, the Holy Spirit confirmed keys to understanding physical reality. As you read this chapter, allow the Holy Spirit to let you hear more than I say.
There is a Non-Physical Reality
My studies in quantum mechanics led me to the works of Max Planck, Albert Einstein, Niels Bohr, and others. Here I learned that everything we see is part of a vast ocean of infinitesimally small subatomic particles. Under certain conditions, these subatomic structures also take on the properties of invisible waves. When I learned that these waves, or particles which make up all matter, cause that matter to blink into existence by being observed by the experimenter, I was shaken to my core.
How could it be that these invisible elements, which make up all matter, can be changed from particles to waves by how they are observed? This reality is beyond our human consciousness and our five senses. Or is it? All of these particles and/or waves appear to be connected. How can it be that every atomic and subatomic element is hooked up? Is this invisible world a part of the spiritual realm?
I suppose the duality of matter being waves or particles and how quantum mechanics attempts to explain this revolutionary idea changed me forever. It caused me to do my own research, which led to the convergence of quantum mechanics and my personal spiritual revelation. I was about to take a quantum leap!
1 Corinthians 1:28 says, "…God (has) chosen…things which are not (the invisible) to bring to naught things which are (the visible)." This Scripture makes sense only when you understand it at the atomic and subatomic level. Everything is made up of atoms, which are frequencies of energy. These frequencies of energy are the voice of Jesus causing all things to be! Atoms are made up of subatomic particles, and subatomic particles are made up of superstrings (which are toroidal vortices of energy). Superstrings are tiny donut shaped packets of energy that spin at a frequency – or sing as in a pitch.
None of this is real in this dimension because they exist only in a state of possibilities until someone observes them. Then, at that observation, the potential becomes a thing – a particle or a wave. This quantum wave collapse, caused by observation, is called popping a qwiff. This is your first step to taking a quantum leap. You can see or observe a God qwiff (something God shows you that is not yet real in this dimension) and, by observing or popping that qwiff, cause that potential to become your reality. Be careful what you see; you are going to get it! Be careful what you say; you will get that, too!
Matter is Frequency Being Spoken by Jesus
When God spoke and all the frequencies of His glory became manifest, the cosmos became! From the tiniest vibrating superstring that is causing or singing the atoms that make up the table of 103 elements, all the way through everything the Hubble telescope sees, are the vibrating frequencies of Jesus' voice.
Colossians 1:16-17 says, "For by Him all things were created that are in Heaven and that are on earth, visible and invisible… He is before all things, and in Him all things consist (exist or are sustained)." The phrase "He is before all things" means that He is outside of our time. Jesus said to John the Revelator that He was and is the Alpha (beginning) and Omega (ending). Jesus is outside our concept of time in His eternal now and is causing all things to be.
When we consider creation and all things eternal, our false concepts regarding time and matter limit our understanding. Receive the concept that Jesus is outside of our time and calendar, looking in. He is observing. He is sustaining all things in this nanosecond (one billionth of a second) and is singing the frequencies or vibrations of your body. If He didn't, you would dissolve! Your electrons, particles, and subatomic structures are blinking in and out of existence. You think you are a solid object, but quantum mechanics has confirmed that all subatomic particles – the stuff you are made of – are blinking in and out of this reality.
To learn more about David Van Koevering and the products he's developed, GO HERE>>
Buy the book The Physics of Heaven!
Please share with us your insights or spiritual experiences about topics covered in this chapter. Be sure to follow the guidelines for comments and the terms and conditions for sharing on this site.