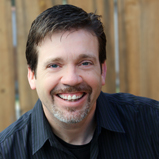 by Dan McCollam
Modern scientific discoveries have recently joined the voice of ancient sacred writings to pull back the veil of ignorance that once shrouded the power of sound in God's universe. Today these applied sciences and theologies can be woven together towards the redemptive understanding of sounds that heal, deliver, destroy, and open up portals in the heavenly realms. This chapter shares Dan McCollam's insights about the amazing power that God has hidden for us in sound.
Physicists claim that the universe is in a constant state of vibratory motion. String theory claims that there are tiny vibrating strands of energy at the center of all matter. Genesis and the leading authority on creation research tell us that the Holy Spirit vibrated over nuclear matter to energize it, giving it the ability to be shaped and formed. Colossians tells us that God created all visible and invisible things and that, "…By Him all things consist." Are you seeing the picture? All created things vibrate and the Creator initiated this vibration in the Genesis account of creation.
Let's add another piece to our sound puzzle. Dr. John Beaulieu is a psychologist, musician, and practitioner of naturopathic medicine who has proposed an interesting application of quantum field theory. Quantum field theory, as Dr. Beaulieu applies it, suggests that the quantum field in a scientific experiment is more significant than its manifestation. Simply put, the cause is greater than the effect it produces.
If one were to apply this principle to vibration and creation you might say that created matter is only the response to a greater field, in this case a vibration. Beaulieu proposes that trees, plants, rocks, and people are perhaps music that has taken on visible form. Assuming the application of this theory has merit, one would be led to ask, "Where then is the voice or music coming from that shapes creation?"
C. S. Lewis must have imagined a similar concept in his acclaimed children's fiction, The Magician's Nephew, from the Chronicles of Narnia series. Here, Lewis pictures the great lion Aslan singing Narnia into existence. Polly and Digory are two young children who watch in amazement as everything the lion sings takes on the shape, character, and color of his song. Now it's quite obvious that C.S. Lewis was writing children's fiction, not establishing quantum theory or systematic theology, but Beaulieu's principle and Lewis's fiction could easily make one wonder if all that we see and enjoy in creation is simply a visible form of the "Lion's song."
Not only does it appear that there is certainly a vibration at the center of all creation, but that same vibrating strand may be what holds the universe together.
We know from the Genesis account that God spoke creation into existence, but according to the book of Hebrews, his powerful word is still what is holding the universe together. "The Son is the radiance of God's glory and the exact representation of his being, sustaining all things by his powerful word." (Hebrews 1:3)
I believe that the string or vibration at the center of all matter in the universe is in fact the sound wave from the word God spoke over each created thing at its entry into existence. His voice, that God vibration, is the glue holding all creation together. Colossians 1:17 states, "He is before all things, and in him all things hold together."
The words that God speaks live forever and supersede our material reality. "Heaven and earth will pass away but my words will never pass away." (Luke 21:33) Like the quantum field theory we examined earlier, we see that God's words shape physical matter but the words themselves are a greater reality than what they create because they "never pass away."
To learn more about Dan McCollam, GO HERE>>
Buy the book The Physics of Heaven!
Please share with us your insights or experiences about topics covered in this chapter. Be sure to follow the guidelines for comments and the terms and conditions for sharing on this site.