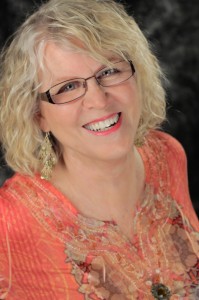 by Ellyn Davis
If we stop for a moment and really consider the implications of quantum physics, we can understand how it lends itself to metaphysical interpretation. So let's discuss a few of the main metaphysical beliefs extrapolated from quantum physics and see how they might relate to Christian truths. 
First, there is the belief in the power of consciousness to influence material reality.
It seems inconceivable that quantum particles exist as waves in no definite place or time but when observed and measured the wave becomes a solid object in a specific place and time. As we've shared before, this phenomenon is called "collapsing the quantum wave function" or "popping a qwiff." The fact that it happens forces us to consider two ideas: first that everything is, in its essence, an interconnected invisible field of energies vibrating at different specific frequencies and second, that in order for a particular energy to assume material form, it needs an observer, a "consciousness" expecting it to become matter.
Another idea that "popping a qwiff" forces us to at least entertain is that somehow human consciousness is a fundamental creative force in the Universe, since it is our consciousness (as the "observer") that seems to determine whether something appears as matter or not. If this is true, it means that we have the power to create, manipulate and change the "reality" of our world by our expectations or intentions. 
Second, there is the belief in a single, universal consciousness that permeates all things. The traditional view about consciousness has always been that it is a property of the mind and that consciousness is only shared by beings with brains. However, it has been understood that conscious beings have differing levels of self-awareness. For example, a human being may be aware that he or she is conscious while a dog may not. Newtonian physics never considered the possibility that lower life forms, plants, or what we consider inanimate objects such as rocks and stars might have some sort of consciousness too. Quantum physics does.
Quantum physics implies that everything that exists, even atoms and sub-atomic particles, has a form of consciousness (sometimes called a "mind") and is interconnected through a universal consciousness (the One Mind). This would explain "quantum entanglement" effects, also called "spooky action at a distance" by Einstein.
In quantum entanglement a particle that has been "entangled" with another particle "knows" whether to assume the property of a wave or a particle according to what has happened to the other particle no matter if that particle is across the room or on Jupiter. That information is mysteriously transferred instantaneously at speeds beyond the speed of light.
A view of one interconnected consciousness in all things would explain this mystery because it would mean that one particle would be receiving its information on what was happening to the other particle from a non-local level of reality. This "one consciousness" idea would also explain many behaviors that have baffled scientists such as how a flock of birds or a school of fish can all turn instantaneously without colliding as if the group shares a common mind.
Third, there is the belief that everything—even our thoughts and emotions—emits energetic vibrations. Quantum Physics suggests that everything is "vibrations"—fields of vibrating energy. However, quantum mysticism claims that even our thoughts and emotions give off vibrations or energies. Many people believe this without attributing it to quantum physics because we've all had experiences such as sensing the tension when we walk into a room where people have been arguing. Metaphysicists would say we are picking up the "vibrations" of anger.
Therefore, most metaphysical and New Age healing modalities center around ridding ourselves of negative energies and balancing our flow of positive energy in order to reach states of better health and higher consciousness. 
Fourth, there is the belief in parallel universes. Quantum theories about parallel universes and a "multiverse" cause us to wonder if there is another side to reality and it is that "other side" that is the origin of our consciousness and the real cause of everything that happens on "this side."
The one consciousness and "other side" theories also provide an explanation for the mystery of what happens when our body dies. If we assume that our actual origin is the "other side," an essential part of us (commonly referred to as our soul) continues to exist through quantum entanglement.
Not only that, but our consciousness can continue to process and store information even after our physical death. This idea is corroborated by many reports of near-death or out-of-body experiences, even those that occurred when there was no brain activity. People who have actually died and come back to life have been able to accurately describe all that was going on around them after their death.
Fifth, there is the belief that mankind is evolving to higher levels of consciousness. Quantum mysticism teaches that as we begin to more fully understand and experience the implications of the oneness of all things, we will take an evolutionary leap of consciousness where our experiences of being one with all that is will actually become a way of life and we will consistently be able to alter the nature of reality with our thoughts and intentions.
This is the traditional view of what happens in enlightenment.
To learn more about Ellyn Davis and the books she's written, GO HERE>>
Buy the book The Physics of Heaven!
Please share with us your insights or spiritual experiences about topics covered in this chapter. Be sure to follow the guidelines for comments and the terms and conditions for sharing on this site.